Reiki John & Nikki
Nikki and John welcomes fellow Travelers of the Inner Being, Healers of humanity and Seekers of Light. Welcome to our  portal to the Soul. We are very honored  that you have taken the time to drop by. Please feel free to browse through  what we have to offer, take what your soul is seeking and know that we honor  whatever your choices are.
It is our intention to share as much knowledge and information in this site as we possibly can to offer a little light in the darkness to help our fellow seekers follow their paths. We do this in gratitude to those who have shined their light so that we might see our way. We do want to mention that this site is a work in progress. We hope to continue to add more dimensions of LOVE to this website as our journey unfolds.
For all of you who do not know what Reiki is, we will briefly explain here. Reiki (pronounced ray-key) is a Japanese word given to a system of natural healing that is becoming increasingly popular worldwide, including in our local hospitals. Reiki evolved from the experience and dedication of Dr Usui, a professor of theology. (For more information see History page) It is not only a system of healing but, if you are seeking, it is a way of accelerating your spiritual development. However, there is no belief system attached to Reiki so anyone can receive it.
Benefits of Reiki: Boosts the immune system; Soothes pain and improves mobility; Eases stress and tension and promotes relaxation; Helps to cope with anxiety and depression; Improves quality of sleep; Reduces effects of trauma; Helps with the bereavement process; And so much more it cannot be listed here. For more information please contact us.
ANIMALS RESPOND VERY WELL TO REIKI, ALSO.
To enter the site, click on the image below.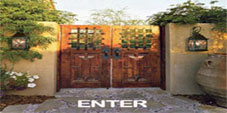 THE REIKI PRINCIPLES
Just for today do not worry.
Just for today do not anger.
Honor your parents, teachers and elders.
Earn your living honestly.
Show gratitude for everything.